HOT CRANES
Avail from us HOT Cranes (Hand Operated Overhead Traveling), which are manufactured using advanced production techniques and require minimum maintenance cost and ensure hassle-free operations in the given applications.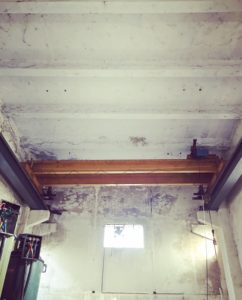 These cranes are known for their high performance & durability and thus, allow a safe & efficient lifting & shifting of heavy material load in places like factories, workshops and warehouses. Further, the designing of the crane also allows easy access in all directions.
Specifications
Capacity : 0.5 Tons Onwards
Span : 5 meter to 40 meter
Lift : 0.5 meter to 80 meter
DESIGN, FEATURES & SPECIFICATIONS
These systems provide space for materials handling even when production units or warehouses are comparatively small and low. To minimize the capital costs for modifications to buildings to provide extra space, we utilize the minimum of space for our crane systems. Using various fixing arrangements the cranes single girder traveling cranes can be fitted individually in the existing space available. Favorable dimensions result in the optimal highest hook position.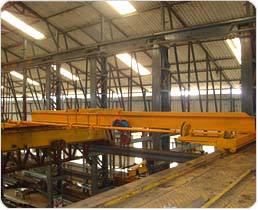 Normally there is no maximum safety distance to the ceiling of the building for single girder cranes with a load capacity range of up to 10 T. This makes it a master at saving space even in buildings with unfavourable dimensions. The crane girder is constructed from robust profiles. All we need for the planning stage of the crane system are the clear dimensions of the building. These cranes can be offered in hazardous atmosphere in spark proof design.